Rep. Tim Huelskamp (R-KS) last Thursday introduced the Military Religious Freedom Protection Act in the House, the Washington Blade reports: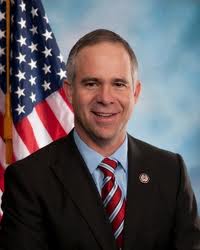 The legislation has two parts. The first states that the religious and moral beliefs of service members and military chaplains concerning human sexuality won't be the basis of adverse personnel action or discrimination in the armed forces. The section section states chaplains may not be forced to perform a rite that is contradictory to their religious teachings, which would include same-sex marriages.
The second section states that a military base can't be used for any marriage or marriage-like ceremony other than the union of one man, one woman.
Huelskamp is known for pushing anti-gay legislation in the House. Last year, on the same day that President Obama endorsed marriage equality, Huelskamp amended major funding legislation on the House floor to reaffirm the Defense of Marriage Act.
Huelskamp's bill has six co-sponsors: Reps. Louie Gohmert (R-Texas), Rep. Vicky Hartzler (R-Mo.), Jim Jordan (R-Ohio), Steve King (R-Iowa), Doug LaMalfa (R-Calif.) and Tim Walberg (R-Mich.)