More details are emerging in the disturbing murder of openly gay Clarksdale, Mississippi mayoral candidate Marco McMillian (below, left), whose body was found at the base of a Mississippi River levee last week after he had been missing for several days.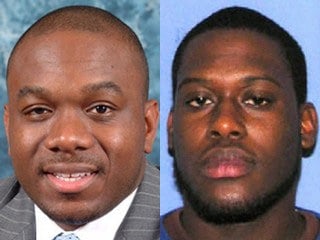 The AP reports:
Sheriff's deputies last week charged 22-year-old Lawrence Reed (far right) with murder in the case. An investigation began Feb. 26 after McMillian's SUV slammed head-on into another vehicle on U.S. Highway 49 near the Coahoma and Tallahatchie county lines. Reed was driving the car, but McMillian was not in it, authorities say. McMillian's body was found the next day. Reed was treated for injuries at the Regional Medical Center in Memphis. The hospital said he was released Saturday. Reed was being held without bond Monday pending extradition to Mississippi.
McMillian's family released a statement today saying that McMillian's body had been brutalized, the Commercial Appeal reports:
"We know that Marco was brutally murdered. His body was found on Wednesday, February 26, 2013, beaten, dragged and burned (set afire)," his family said in an email released through his campaign manager Jarod Keith. "This was reported in our meeting with the local coroner on two occasions. We were informed that the official autopsy report could take two to four weeks to complete.
"We feel that this was not a random act of violence based on the condition of the body when it was found. Marco, nor anyone, should have their lives end in this manner."
His family went on to say in the statement that McMillian shared with them before his death that he was concerned about his safety, and that they want a "full and thorough" investigation into his murder.
"We feel it is important to share this information to dispel speculations surrounding his death," McMillian's family stated.
The circumstances surrounding McMillian's death are under an active investigation.
McMillian was "one of the first viable openly LGBT candidates in Mississippi" according to the Victory Fund.