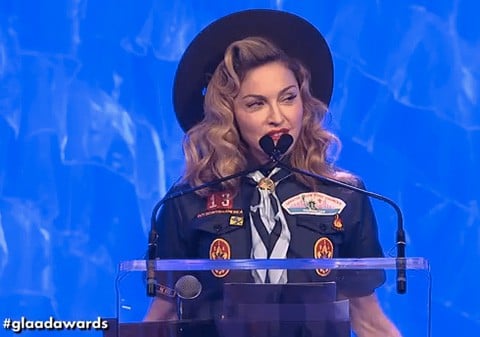 Rick Perry took a shot at Madonna for blaspheming the Boy Scouts at the GLAAD Awards in NYC, the Houston Chronicle reports:
"It's fascinating that someone would make that kind of gratuitous shot at an organization that has probably done as much to promote young men to the type of values that the vast majority of the people in this country aspire to," Perry said.
Perry has been an outspoken advocate for the Boy Scouts for years. He authored the book, "On My Honor: Why the American Values of the Boy Scouts Are Worth Fighting For " in 2008, explaining why the organization should adhere to its conservative values. When the Boy Scouts considered changing their policy earlier this year, Perry protested openly.
"I think most people see absolutely no reason to change the position and neither do I," Perry said at the Texas Scouts' 64th annual Report to State in February.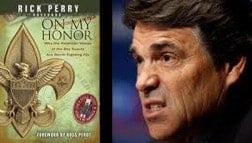 In his book, Perry also compared homosexuality to alcoholism.
…"Even if an alcoholic is powerless over alcohol once it enters his body, he still makes a choice to drink…And, even if someone is attracted to a person of the same sex, he or she still makes a choice to engage in sexual activity with someone of the same gender."
In related news, Scouts for Equality, the organization run by former Eagle Scout Zach Wahls, which has been leading the fight against the Scouts' ban, released numbers yesterday from internal documents obtained by SoE showing that the gay ban is a key factor driving the decades-long decline in scouting.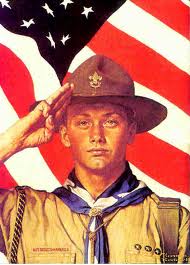 The internal Voice of the Scout poll showed that of the 5,800 survey respondents who commented on the policy, 95 percent said the 'reaffirmation of the membership policy negatively impacted their loyalty.' For boy scouts and their parents, that number jumped to 97 percent.
BSA also noted that "conservative estimates assign a 15:1 ratio of negative to positive comments about the existing membership standards policy" that prohibits gay scouts or scoutmasters.
The public relations pressure following the ouster of a lesbian den mother , Jennifer Tyrrell, in the summer of 2012, 'seems to have greatly impacted Detractors, as the membership standards policy was mentioned 42 percent of the time in their comments. This volume is significant enough to warrant further discovery as it may be a key factor in the NPS decline for parents of Boy Scouts / Venturers.'
More information at Scouts for Equality – and here's the polling document.