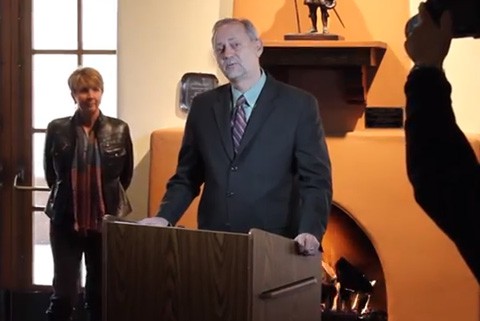 Yesterday I reported on an announcement by Santa Fe, New Mexico Mayor David Coss that same-sex marriage is legal in his state in advance of an opinion prepared for his City Council.
Here's video of Coss's press conference yesterday, along with Councilor Patti Bushee and City Attorney Geno Zamora.
Watch, AFTER THE JUMP…
Coss says he has a gay daughter and wants to see her walk down the aisle.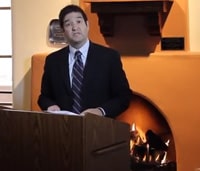 Said Zamora:
"Currently, today, under the existing laws on the books…same-sex marriage is legal. This argument consists of four points. First and most importantly, New Mexico does not define same-sex marriage  as a marriage between a man and a woman. These statutes define it as gender neutral between two parties. Secondly, New Mexico validly recognizes same-sex marriage from other states. Third, under New Mexico statue, a marriage license is not permitted to be denied based on the sex of the couple…Finally, we have a New Mexico constitution that guarantees equal rights on the basis of sex. To deny equal rights to same-sex partners is to violate the New Mexico constitution. Same-sex marriage is legal in New Mexico. It's legal for our brothers and sisters, for our parents, for our nephews and nieces, and for our friends."
Watch, AFTER THE JUMP…
The Washington Blade spoke with Coss yesterday:
This action from city officials comes more than two years after an opinion from state Attorney General Gary King stating same-sex marriage is legal in New Mexico. However, his opinion does not have the force of law.
Coss said he expects the resolution and opinion will mostly go before district court, then to the New Mexico Supreme Court for a final resolution.
"If the Supreme Court agrees with us, then that'll take us to New Mexico being the 10th state to recognize same-sex marriage," Coss said.
It wouldn't be the first time county clerks in New Mexico began issuing marriage licenses to same-sex couples.