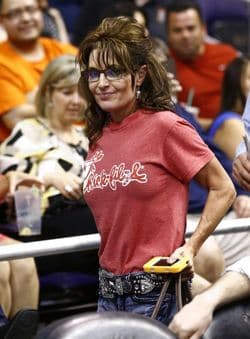 Sarah Palin was spotted wearing some hate fashion at the Phoenix Suns game, the New York Daily News reports.
It's her most prominent show of support for Chick-fil-A since July 2012, when she posed for photos to show support for the bigoted brand, saying "Stopped by Chick-fil-A in The Woodlands to support a great business."
Think Progress recently reported on financial documents that show Chick-fil-A's giving to anti-gay causes nearly doubled in 2011.