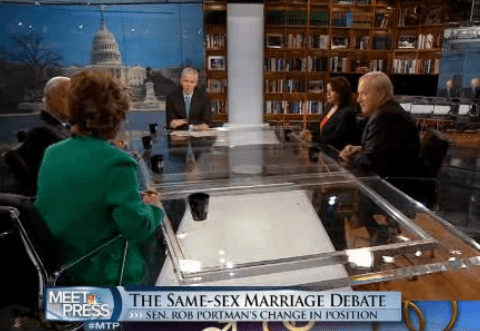 David Gregory and the Meet the Press round table today spent some time discussing Ohio Sen. Rob Portman's announcement that he's bucking Republican Party policy and supports marriage equality.
One of the MTP guests, GOP Wisconsin Gov. Scott Walker, was asked whether same-sex nuptials are a civil rights issue worth fighting for and whether younger Republican voters will expect their candidates to back equality. Walker's responses to both questions are text book avoidance.
First, he downplayed the idea that Portman represents a "sea change" for the party — "I think the senator's announcement made the topic timely," he said — and made it seem as if voters don't care about marriage equality anyway, "It really isn't an issue; it didn't come up in my 2010 election, it didn't come up in 2012." To the second part, whether it's a generational matter, he switched topics.
Here's transcript from ThinkProgress:
GREGORY: Are younger conservatives more apt to see marriage equality as something that is, you know, what they believe, that is basic rather than as a disqualifying issue?

WALKER: I think there's no doubt about that. But I think that's all the more reason, when I talk about things, I talk about the economic and fiscal crises in our state and in our country, that's what people want to resonate about. They don't want to get focused on those issues.
While Walker lets his imagination run wild, over half the country thinks marriage equality should be legal and TP's Igor Volsky notes that 83% of Americans think same-sex nuptials will be legal within the next 5-10 years, so clearly it is an issue Americans are thinking about.
No wonder former Oklahoma Gov. and fellow Republican Frank Keating disagreed with Walker and said there is a sea change, though Keating also said he wants marriage decided by the states. "That's federalism working as it should," he said.
You can watch his and the other panelists' remarks AFTER THE JUMP.
embed name="msnbc706640″ src="http://www.msnbc.msn.com/id/32545640″ width="480″ height="280″ FlashVars="launch=51215141&width=480&height=280″ allowscriptaccess="always" allowFullScreen="true" wmode="transparent" type="application/x-shockwave-flash" pluginspage="http://www.adobe.com/shockwave/download/download.cgi?P1_Prod_Version=ShockwaveFlash">