Senator Lisa Murkowski (R-AK) is "evolving" on the subject of gay marriage, or, as Jeremy Hooper puts it, is "totally going to support equality once polls tell her she can comfortably do so…"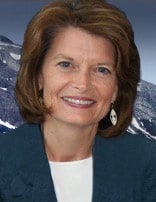 The HuffPost reports:
"The term 'evolving view' has been perhaps overused, but I think it is an appropriate term for me to use," she said in an address at the Chugiak-Eagle River Chamber of Commerce, according to the Chugiak-Eagle River Star.
Murkowski elaborated on her stance to Alaska Public Radio. "I think you are seeing a change in attitude, change in tolerance, I guess, and an acceptance that what marriage should truly be about is a lasting, loving, committed relationship with respect to the individual," she said. Her comments came on the same day as the Supreme Court heard arguments challenging the constitutionality of the Defense of Marriage Act.
Who will be the next Republican to make the leap? Guesses, anyone?