Zimbabwe's Prime Minister Morgan Tsvangirai, who said in October 2011 that he wanted gays protected in a new constitution, is apparently not feeling that way anymore: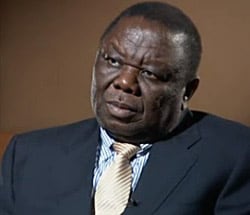 Prime Minister Morgan Tsvangirai made a sudden U-turn and denounced homosexuality during a meeting in Harare last night. Addressing MDC-T supporters at Glen View New Hall, Prime Minister Tsvangirai denounced homosexuality and said marriages should be between a man and a woman.
"In the draft Constitution, we said marriage is between a man and a woman and those who want to marry another from the same sex, then they have a problem. Why do you want to sleep with another man?"
Here's what Tsvangirai said in 2011:
"It's a very controversial subject in my part of the world. My attitude is that I hope the constitution will come out with freedom of sexual orientation, for as long as it does not interfere with anybody."
Tsvanfirai received backlash for his remarks, but later stood his ground, saying he refused to throw stones:
"I want to put finality and closure to an issue that has been misinterpreted, the issue of the so-called gay rights. My beliefs on this issue are a matter of public record. My beliefs manifest themselves in my practice. I am a Christian associated with the Methodist church. I am a father. I am a grandfather. I am a family man. I am a Zimbabwean and I know the strong feelings of Zimbabweans about this issue. I have those strong feelings too but in the end, Zimbabweans are making their own Constitution and it is that Constitution which will bind every Zimbabwean. What I refuse to do as a loyal son of God and as a social democrat is to persecute, to judge, to condemn and to vilify people for their own opinions because judgment is a preserve of God the Almighty. The Book of Luke Chapter 6 verse 37: "Do not judge and you will not be judged, do not condemn and you will not be condemned. The Book of John Chapter 8 verse 7: "If any one of you is without sin, let him be the first to throw a stone… So while I may differ with them, as a Christian and as a social democrat, I refuse to throw a stone at them."