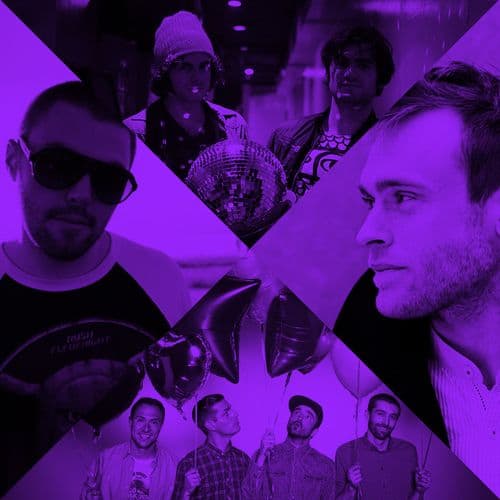 BY OCCUPY THE DISCO / JOSH APPELBAUM
The OXD Mirror is a weekly music column brought to you by the boys of OCCUPY THE DISCO (OXD), a New York City based movement created by three music lovers, Ru Bhatt, Josh Appelbaum, and Tadeu Magalhães, who want to share their love for disco, house and dance music with the world.
We are now on Spotify!  Subscribe to our 'As Featured on Towleroad' Playlist to listen to tracks posted from past weeks.
French Horn Rebellion: 'Girls (Rogue Vogue Remix)'
French Horn Rebellion are 2 Brooklyn-based brothers that describe themselves as "band geeks gone wild." While normally I would scoff at a song from two guys paying tribute to the female species, the song also features vocals from ex-Le Tigre member and out lesbian J.D. Samson, thereby mitigating the chauvinistic nature of the track. Chicago disco DJ Rogue Vogue adds in his signature disco style and chops up the vocals, making this once cheeky pop song a fun, dancefloor-appropriate work. The track is available for free download through the link above.
Gold Fields: 'Dark Again (Penguin Prison Remix)'
Although recently my taste has leaned towards deeper and 90's-inspired house, this appropriately dark remix of Australian band Gold Fields' single 'Dark Again' really struck a chord with me. Penguin Prison added deep synths, rolling bass and a much more sinister vibe to this song, giving it a very 80's new wave feel. Gold Fields have a sound that is reminiscent of pop/rock/dance comrades Phoenix and Van She. Their debut album is available on iTunes here, and it's definitely worth a listen if you like the former two bands.
Kraak and Smaak: 'The Future is Yours'
Netherlands-based trio Kraak & Smaak have been producing their own original songs and remixes for artists like Sam Sparro, Moby and Jamiroquai since 2003. Their latest single features vocals from a personal favorite of mine, UK crooner Ben Westbeech. His smooth and sexy vocals go quite nicely with the slick "uptempo lounge" sound Kraak & Smaak have crafted.  If this single is any indication of the sound of their new album, we are in for quite a deep house treat. I'm also a big fan of Tom Trago's deep house remix of this song, which can be found here. For extra credit, check out the video for Ben Westbeech's slick 2011 single 'Something For The Weekend'.
MORE NEW MUSIC, AFTER THE JUMP…
C2C: 'Genius (Yuksek Remix)'
One of our weekly readers introduced us to DJ-band C2C this past week (Thanks Spencer!) and coincidentally this remix of their 2012 track 'Genius' dropped at the same time. The group, which hails from Nantes, France, is a self-described four piece 'turntable band' that has won multiple international DJing competitions. Producer Yuksek, also known as part of Peter and the Magician, puts his own spin (pun intended) on 'Genius', adding in classic pianos and an increasingly cascading beat.
Goldroom feat. Mereki: 'Only You Can Show Me'
Los Angeles' Goldroom, also known as Josh Legg, has been producing and writing tropically-inspired vocal house tunes for the past year to much fanfare here at OXD. His last single, Sweetness Alive, showcases his nostalgic and breezy sound which continues on with his latest, 'Only You Can Show Me.' This song was featured as the first track on The Magician's Magic Tape 30 before its official release. The track's vocalist, Mereki, will join Goldroom to provide vocals for his live tour.  Hopefully this song is a taste of what's to come of the great summer music months, much like in 2012 when poolside tunes like this one were in sheer abundance.
Alan Braxe: 'Time Machine (Le Crayon Remix)'
Alan Braxe has made quite a name for himself with his legendary original tracks, collaborative works with Fred Falke and Kris Menace, and remixes for the likes of Britney Spears, Kylie Minogue, Beyoncé, and Jamiroquai. He's back with a slightly melancholy, repetitive new track for Scion AV titled 'Time Machine.' Hot up-and-comer Le Crayon, a recent Kitsuné Records signee, adds a decidely happier bass line and disco beats that perfectly complemented my morning jog.
This week's post was written and curated by Josh Appelbaum.
For more information on OXD, check out our website and accompanying blog at www.occupythedisco.com, like us on Facebook, or follow us on Twitter: @OccupyTheDisco.