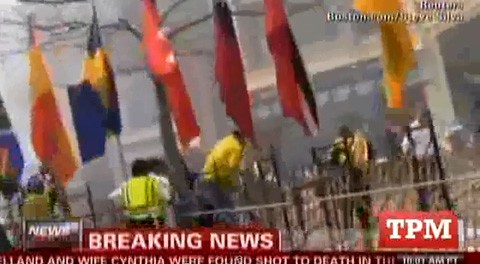 The AP is reporting via Twitter:
Law enforcement official: Arrest imminent in Boston Marathon bombing, suspect to be brought to court.
More:
The official spoke to The Associated Press on condition of anonymity Wednesday. The official was not authorized to divulge details of the investigation. The official says the suspect is to be taken into custody by federal marshals and taken to a Boston courthouse.
In related news, CNN reported this morning on the possible identification of a suspect, TPM reports:
[CNN's John] King said he's been told by authorities that video footage from the Lord and Taylor department store and from a local Boston television station has led investigators to believe that they have "clearly identified" the individual who placed one of the explosive devices at the site of the second explosion. The department store on Boylston Street is located near the site of the second explosion.
Watch their report, AFTER THE JUMP…
UPDATE: CNN is now reporting that an arrest has been made. NBC News says not yet.
UPDATE II: The FBI blasted news reports.
Contrary to widespread reporting, there have been no arrests made in connection with the Boston Marathon attack. Over the past day and a half, there have been a number of press reports based on information from unofficial sources that has been inaccurate. Since these stories often have unintended consequences, we ask the media, particularly at this early stage of the investigation, to exercise caution and attempt to verify information through appropriate official channels before reporting.