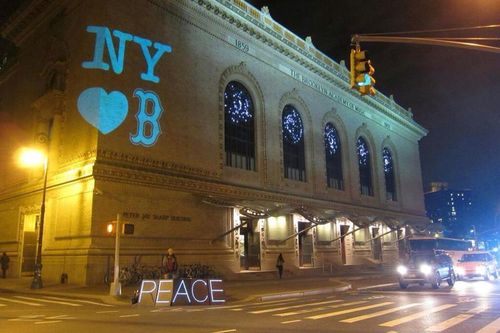 (NYC stands in solidarity with Boston on the Brooklyn Academy of Music)
Three people are dead, including an 8-year-old boy from Dorchester named Martin Richard. His mother and sister suffered "grievous injuries," the Boston Globe reports.
More than 130 people are wounded.
No one is in custody. Authorities are talking to at least one person at Brigham and & Women's Hospital:
The person questioned in the hospital was a Saudi national, who was report­edly tackled and held by a ­bystander after he was seen running from near the scene of the explosion, said a law enforce­ment source who spoke with someone involved in the FBI's investigation. The Saudi man, believed to be a university student in Boston, is cooperating with the FBI and told agents that he was not involved in the explosions, and that he ran only because he was frightened. Investigators did not characterize the man as a suspect. No one had been arrested or charged as of late Monday night.
Hospital officials late last night said tests showed no radiation or biological agents on the victims, and although many people were wounded by flying shrapnel, it did not appear the bombs had been packed with nails or other fragments to increase the injuries.
Law enforcement conducted a search on an apartment building on Revere Beach Parkway.
The first question asked of Governor Deval Patrick at a press conference last night was from a ridiculous conspiracy theorist 'truther':
"Why were people in the audience telling people to be calm moments before the bomb went off. Was this another false flag staged attack to take our civil liberties and promote Homeland Security by sticking their hands down our pants on the streets?"
The Westboro Baptist Church has been very busy blaming the bombing on gays.
The Boston Athletic Association who organized the race, released this statement:
'Today is a sad day for the City of Boston, for the running community, and for all those who were here to enjoy the 117th running of the Boston Marathon. What was intended to be a day of joy and celebration quickly became a day in which running a marathon was of little importance.'