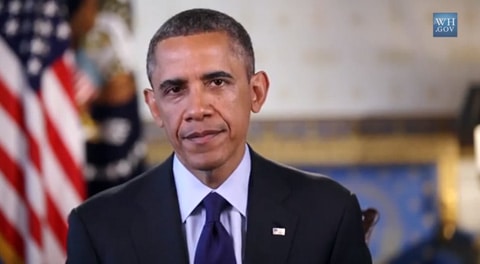 President Obama capped a very rough week for the city of Boston by saluting the "stories of heroism and kindness; resolve and resilience; generosity and love" in his weekly address:
If anyone wants to know who we are; what America is; how we respond to evil and terror – that's it. Selflessly. Compassionately. And unafraid.
Through days that would test even the sturdiest of souls, Boston's spirit remains undaunted. America's spirit remains undimmed. Our faith in each other, our love for this country, our common creed that cuts across whatever superficial differences we may have – that's what makes us strong. That's why we endure.
Watch, AFTER THE JUMP…
I've also posted his remarks from last night, shortly after the capture of the second bombing suspect.
NBC News makes this note:
"When a tragedy like this happens … it's important that we do this right. That's why we have investigations. That's why we relentlessly gather the facts. That's why we have courts," he said. "That's why we take care not to rush to judgment — not about motivations of individuals, certainly not about entire groups of people."
There was a small element of politics amid an essentially criminal pursuit of the at-large suspect in the Marathon bombings, an event that was regarded as a terrorist attack. Sen. Lindsey Graham, S.C., and Rep. Peter King, N.Y., both Republicans who speak out frequently on national security issues, quickly urged law enforcement against reading Tsarnaev his Miranda rights, which would entitle him to certain legal rights in the criminal justice system.
But the administration said it would invoke a public safety exception to the Miranda rule shortly after Tsarnaev's apprehension, and would withhold the warning normally read to suspects under arrest when the accused terrorist is physically able to be interrogated.