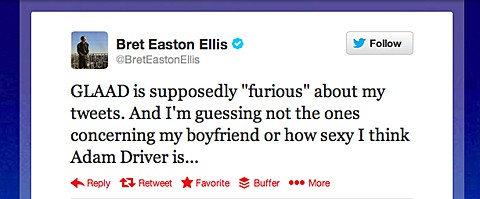 The GLAAD Media Awards were held in Los Angeles on Saturday night and author Bret Easton Ellis, whose rancid past tweets that Matt Bomer is too gay to play a heterosexual and that Chris Colfer and Glee give him fright of catching HIV have landed him in hot water, claims he was banned from the GLAAD awards.
Wrote Ellis in a series of tweets:
"As a gay man in a domestic partnership who plans to get married I'm sad to hear I've been banned by GLAAD from attending tomorrow's event… GLAAD is supposedly "furious" about my tweets. And I'm guessing not the ones concerning my boyfriend or how sexy I think Adam Driver is… It's GLAAD's party and they can invite whoever they want, but as the guest of someone invited who was told today she can't bring me, well… After GLAAD banned me they told the friend who was bringing me to the event to WARN "Bret not to go public or TWEET about this decision…" Bill Clinton signed DOMA and Don't Ask Don't Tell and cheated on Hillary. I dissed Glee and Matt Bomer as Christian Grey. GLAAD: RIGHT ON!"
GLAAD vp of communications Rich Ferraro told the Hollywood Reporter:
"GLAAD spoke with the guest who was planning to bring Bret about some of Bret's recent remarks, which the gay community responded negatively to. We also asked for a time to sit down with Bret. They decided to replace Bret with a different guest and there has been no response to the offer of a meeting. We hope his tweets don't overshadow the high-profile allies and everyday LGBT people who will be onstage tonight advocating for equality in the Boy Scouts, marriage and across the country."
A full list of GLAAD Award winners can be found here.
President Bill Clinton's speech accepting his GLAAD award can be found here.