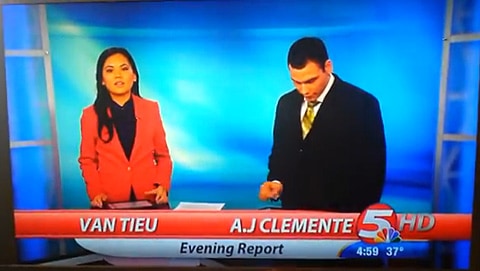 NBC North Dakota Anchor AJ Clemente did not have an auspicious first day on the job, beginning his broadcast with the words "gay… f**king… sh*t". On the bright side, North Dakota viewers finally got to see something interesting on the news.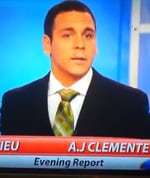 Watch (warning: language), AFTER THE JUMP…
Clemente has been suspended by the station:
To all of you who are writing in…I want to apologize for an incident that occurred prior to our early newscast this evening, when one of our employees used profanity on the air.
He did not realize his microphone was on, but still, that's no excuse. WE train our reporters to always assume that any microphone is live at any time. Unfortunately, that was not enough in this case. WE can't take back what was said. The person involved has been suspended until we resolve the situation. All we can do at this point is ask for your forgiveness, and I can offer my personal assurance that I will do my best to ensure that nothing like this ever happens again under my watch.
UPDATE: AJ explains himself on Twitter.
"Tough day, Thanks for the support,We all make mistakes. Im truly sorry for mine. I'll try my hardest to come back better and learn from this…I just want to say that I did not say the word gay, I was trying to pronounce the London Marathon winners name Tsegaye Kebede…I would never disrespect anybody in that matter. Once again I'm truly sorry."
UPDATE II: AJ was fired.