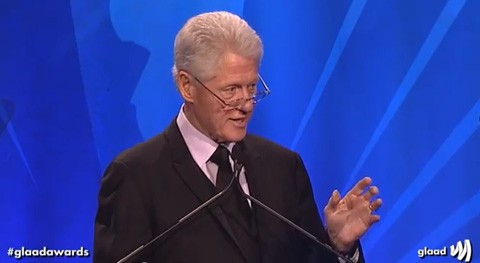 President Bill Clinton accepted GLAAD's 'Advocate for Change' Award at the GLAAD Awards in Los Angeles last night and while he did not, as GLAAD had not in its announcement that Clinton would be receiving the award, mention that he was the one who had signed it into law in 1996, one heckler (at 5:35 in the video) reminded the crowd of that fact.
"You signed it!" yelled the attendee.
Clinton, without acknowledging the voice, did promise to keep on the path of advocating for equality:
"I want to keep working on this until not only is DOMA no longer the law of the land, but until all people – no matter where they live – can marry the people they love."
Clinton called for the Supreme Court to overturn DOMA in a Washington Post editorial in March.
He added that there is still work to do:
"You have helped me come to the place where I am today. That's why you are the true agents of change…I believe you will win the DOMA fight, and I think that you will win the constitutional right to marry. If not tomorrow, then the next day or the next day…I supported and tried to pass ENDA without success. We still need to pass that. We still need to fight bullying and we need the right kind of immigration reform that doesn't discriminate against anybody."
And attributed his evolution on gay rights issues to his daughter Chelsea:
"She has had a profound impact in many ways on the way I see the world. It's sort of humbling when you get to be my age when your child knows more than you do about everything….Chelsea and her gay friends and her wonderful husband have modeled to me how we should all treat each other regardless of our sexual orientation or any other artificial difference that divides us. Many of them come and join us every Thanksgiving for a meal. I have grown very attached to them. And over the years, I was forced to confront the fact that people who oppose equal rights for gays in the marriage sphere are basically acting out of concerns for their own identity, not out of respect for anyone else."
Near the end of his speech, Clinton did seem to note that he had some detractors in the audience:
"You are the agents of change. I'm getting this award tonight because I was the object of your affections – or not, as the case may be."
Watch his speech, AFTER THE JUMP…
A full list of GLAAD Award winners HERE.