Eric Fanning, nominated by President Obama in August 2012, has been confirmed as Air Force under secretary, the Washington Blade reports: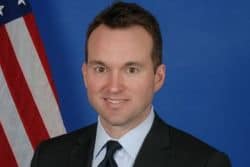 Prior to his confirmation, Fanning served starting in July 2009 as the deputy under secretary and deputy chief management officer for the Department of the Navy…As part of senior leadership within the Air Force, Fanning is responsible for recruiting, organizing, supplying and mobilizing the service in addition to other duties.
…In addition to his military career, Fanning has been involved in LGBT acvitism. He's a former board member of the Gay & Lesbian Victory Fund and served on the board of directors from 2004 to 2007.
Allyson Robinson, executive director of the LGBT military group OutServe-SLDN, praised the Senate in a statement for the confirmation of Fanning.
"This appointment is yet another example of this administration's commitment to affirming the contributions and service of the LGBT community and underscores the new reality of open gay and lesbian service in our ranks," Robinson said. "We look forward to working with him to advance the cause of full military equality."
More at the Blade…