The Employment Non-Discrimination Act (ENDA) was reintroduced today in the House and Senate.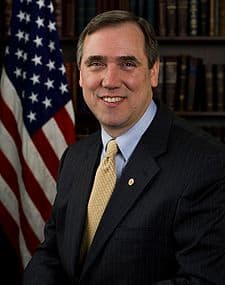 Unfortunately, its reintroduction was marred by objections over religous exemption language in the bill. The ACLU, Lambda Legal, National Center for Lesbian Rights, and Transgender Law Center released a joint statement Thursday morning applauding the reintroduction but expressing "very grave concerns" about the exemption language:
Despite the remarkable progress – cultural, political, and legal – that LGBT people have made in recent years, there are currently 34 states that lack workplace non-discrimination laws that are fully inclusive of LGBT people. This patchwork of protection continues to leave LGBT people vulnerable to workplace discrimination. We hear the stories every day from our clients and the tens of thousands of LGBT people who contact LGBT legal organizations like ours every year. In a country that values fairness and equal treatment under the law, we believe the current situation is unacceptable.
We greatly appreciate the efforts of Sens. Merkley (pictured, D-Ore.) and Kirk (R-Ill.) and Reps. Polis (D-Colo.) and Ros-Lehtinen (R-Fla.) in making a number of significant improvements to ENDA. These include removing language that would have reaffirmed the discriminatory and unconstitutional Defense of Marriage Act.
While we applaud the progress that has been made, we stand united in expressing very grave concerns with the religious exemption in ENDA. It could provide religiously affiliated organizations – far beyond houses of worship – with a blank check to engage in employment discrimination against LGBT people. Some courts have said that even hospitals and universities may be able to claim the exemption; thus, it is possible that a religiously affiliated hospital could fire a transgender doctor or a religiously affiliated university could terminate a gay groundskeeper. It gives a stamp of legitimacy to LGBT discrimination that our civil rights laws have never given to discrimination based on an individual's race, sex, national origin, age, or disability. This sweeping, unprecedented exemption undermines the core goal of ENDA by leaving too many jobs, and LGBT workers, outside the scope of its protections.
National Center for Transgender Equality's Mara Keisling wrote an F.A.Q. this morning on the bill and what it includes and does not include.
Buzzfeed has more on the religious exemption:
Lambda Legal attorney Greg Nevins, who has litigated some of the group's employment discrimination cases in the past, talked with BuzzFeed about the religious exemption.
"In Title VII, there's an exemption for certain religious-affiliated entities that says that they can basically engage in religious discrimination but they cannot engage in race, color, sex, or national origin discrimination. The words [religious-affiliated entities] have been sometimes interpreted very broadly," Nevins explained, noting, "For instance, a Presbyterian hospital might in some jurisdictions be considered to qualify, which is decidedly different than saying a church or a convent can do these things."
The religious exemption in ENDA "would say that sexual orientation and gender identity discrimination are not actionable against those entities as defined in Title VII," he added.
"It would be setting up a two-tiered system saying that race, color, sex, and national origin discrimination cannot be engaged in by one of these entities, but sexual orientation and gender identity discrimination can," Nevins said.