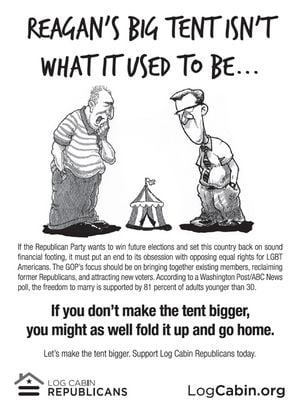 PHOTO OF THE DAY: Have the Log Cabin Republicans finally had it with the GOP's dislike of gays?
BY SAM GREISMAN
A look back at today's top stories
GAY NEWS
A new twist on the marriage equality debate has cropped up in Minnesota where a proposed new bill could redefine marriage as civil unions for all couples and leave marriages up to churches. Interesting. Also in the North Star State, a bride took a stand for marriage equality when she handed her bouquet to her lesbian sister in hopes that she can legally get married one day. Good news too in Philadelphia as the city has passed an LGBT health bill.  
Ari Waldman tells us why the Boy Scouts' kinda-end to their ban on gays actually highlights their anti-gay agenda. Former President George W. Bush has come out of hiding for a media blitz surround the opening of the Bush Library and despite making comments about foreign policy and immigration, says that it is not his place to discuss gay marriage. And today is the 20th anniversary of the 1993 March on Washington which at the time was the largest gay and lesbian rally in American history. 
**
WINGNUTTERY
A Baltimore area police chief threw some ridiculous and horrible slurs at an officer. The Catholic high school teacher that was fired after she named her partner in her mother's obituary is apparently set to file a discrimination complaint against the school. Also a Delaware church is using a fancy-schmancy sign to display its opposition to gay marriage. 
**
VIDEO OF THE DAY
Having trouble getting out of bed in the morning? This supercut should help a lot.