Former Congressman Jim Kolbe will urge the Senate Judiciary Committee on Monday to add gay partners to a comprehensive immigration reform bill which thus far excludes them, Politico reports: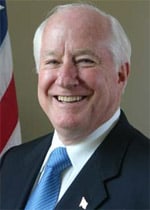 Kolbe, the second openly gay Republican to serve in Congress, is one of 20 witnesses scheduled to testify at the hearing. But he is the only one whose primary aim is to describe the challenges binational gay couples face, Immigration Equality spokesman Steve Ralls said.
The 11-term congressman from Arizona is expected to talk about the hardship of the current system on his relationship with his partner of eight years, Hector Alfonso, a Panamanian native. Alfonso is now in the U.S. on a green card, but the couple were forced apart for a year because a previous visa expired and the federal government doesn't grant any legal status to gay couples.
Kolbe is planning to marry on May 18, in Washington D.C.
Senator Lindsey Graham (R-SC), and John McCain (R-AZ) two members of the so-called 'Gang of Eight', have both said adding gay couples to the comprehensive immigration bill would endanger its passage.
Kolbe signed the Republican SCOTUS brief opposing DOMA. In 1996, he was outed by The Advocate for having voted in favor of it.