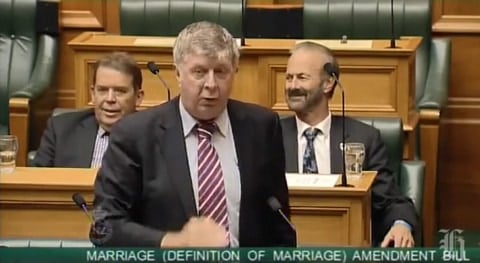 Last week New Zealand MP Maurice Williamson delivered a hilarious and uplifting speech before the passage of the country's marriage equality bill. Since it was posted, it has been viewed more than a million times.
Said Williamson in the speech:
"I also had a leader tell me I would burn in the fires of hell for eternity and that was a bad mistake because I've got a degree in physics. I used the thermodynamic laws of physics. I put in my body weight and my humidity and so on. I assumed the furnace to be at 5000 degrees and I will last for just on 2.1 seconds."
"One of the messages I'd had was that this bill was the cause of our drought. This bill was the cause of our drought. Well if any of you follow my Twitter account, In the Pakuranga electorate this morning, it was pouring with rain, we had the most enormous big gay rainbow across my electorate. It has to be a sign."
The lawmaker was asked to appear on Ellen, TVNZ reports, and we may soon see that happen:
Normally politicians are not allowed to take up the offer of a paid trip, but Prime Minister John Key told TV ONE's Breakfast this morning that Williamson "can absolutely go".
"Anyone who has seen Maurice speak before, the good people of Pakuranga, will know what I'm talking about, he is very funny. He is ferociously bright, he's always had that incredibly witty sense of humour and I don't think that he did an awful lot of planning for that speech."
The Prime Minister says rules surrounding actors equity mean people who appear on such shows have to be paid – but as long as Maurice Williamson donates the fee to charity, it will be fine.
Williamson's speech, if you'd like to revisit it, is AFTER THE JUMP…