Former Senator Olympia Snowe (R-ME) says she snow upports marriage equality: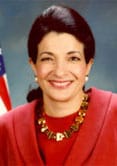 "I think obviously this has evolved over time on the whole issue for the whole country and the nations," Snowe, a moderate Republican, told CNN. "We've seen a sea change in society's whole attitude on this particular issue and it's only natural for government to be responsive to those changes."
Snowe said she supported Maine's provision permitting marriage between same-sex couples in November, a position she hasn't previously stated. That measure passed, making Maine one of nine U.S. states that allow same-sex marriage.
Snowe also said she now opposes DOMA, which she voted for in '96:
"The time has come," she continued. "I think what we're seeing is, I think, changing societal conventions, that ultimately you see the transformation of society's gradual thinking and evolving on issues. I think we're seeing those sea changes on this particular question."
Too bad she couldn't see this clearly while in office.