Dan and Eric got married in NYC on February 15. Katie Osgood, their photographer, wanted to do something a bit different for them. So she went stop-motion.
Watch it, AFTER THE JUMP…
She explains: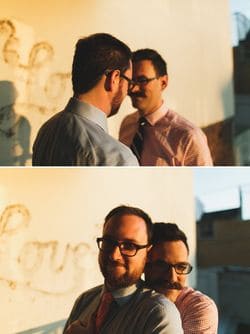 When Dan and Eric got into NYC a few days before the wedding I wanted to meet them in real life, so we met up for some beers. It was then that I told them about my idea to shoot a few scenes for a potential stop-action movie. Nothing too crazy, but I wanted see how a wedding day would translate through a quirky stop-action sequence. They were down and better yet, they totally trusted me.
So why all of a sudden did I want to try this out after so long? I'll tell you— I've been shooting weddings since 2006, the last 3 years of which have been full-time. When it all started I thought I had to take 'wedding style' photographs. What does even that mean?! At the time, to me, it meant I had to shoot brides and grooms dip kissing each other and couples arbitrarily walking through a park in clothes that were way too fancy for the occasion. In short, I felt like there was my 'wedding work' which was mildly fake and contrived and then this other stuff I did.
Watch it, AFTER THE JUMP…
Katie explains that she used 94.7% of the images shot on their wedding day, which you can see separately here.
Congrats guys!
Don't miss our other recent Gay Wedding videos…
Gay Wedding Video of the Day: Wesley and Jonathan [tlrd]
Gay Wedding Video of the Day: Jackson and Kwesi [tlrd]
Gay Wedding Video of the Day: David and TreDarrius [tlrd]
Gay Wedding Video of the Day: Patrick and Sébastien [tlrd]
Gay Wedding Video of the Day: Randy and Allen [tlrd]