Brittney Griner, the  three-time All-America centre at Baylor who was the top pick in Monday's WNBA draft and is now headed to play for the Phoenix Mercury spoke about her sexuality for the first time in an interview Wednesday with SI.com.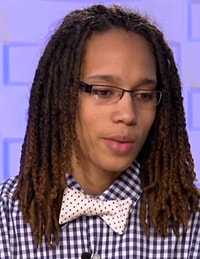 Said Griner when asked by SI host Maggie Gray why there's a difference between acceptance of gays in men's versus women's sports:
"I really couldn't give an answer on why that's so different. Being one that's out, it's just being who you are. Again, like I said, just be who you are. Don't worry about what other people are going to say, because they're always going to say something, but, if you're just true to yourself, let that shine through. Don't hide who you really are."
Gray asks how difficult it was for her to come out:
"It really wasn't too difficult, I wouldn't say I was hiding or anything like that. I've always been open about who I am and my sexuality. So, it wasn't hard at all. If I can show that I'm out and I'm fine and everything's OK, then hopefully the younger generation will definitely feel the same way."
Watch the full interview, AFTER THE JUMP…