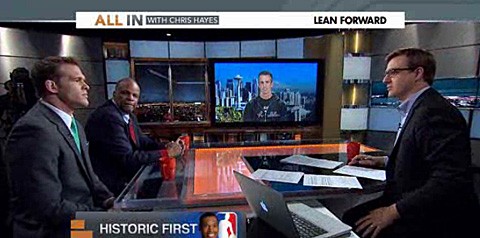 Athlete Ally's Hudson Taylor, New York Times reporter William Rhoden, and Dan Savage joined Chris Hayes last night to talk about what the reaction will be from the NBA owners and players to Jason Collins' coming out.
Said Savage:
"What this debate comes down to ultimately is not who gay people are and where gay people are. We are who we are and we are everywhere. If there's no openly gay people in whatever environment you're in or whatever environment you're talking about that doesn't mean there are no gay people. There's no openly gay people. I think ultimately what this comes down to is who straight people are. This isn't about whether Jason Collins or other athletes who happen to be gay are pansies. It's about whether heterosexual men and heterosexual athletes in locker rooms are pansies. If they're afraid of gay men, if they're jumping up on chairs and shrieking and too afraid to shower in the same conditions that marines, and sailors, and airmen shower in…Are straight people better than they've been built? Are straight people less bigoted than they've convinced themselves they are? I think they are less bigoted as we saw in the military after the 'DADT' repeal and a lot of LGBT soldiers came out and it was a non-issue and they were accepted."
Watch, AFTER THE JUMP...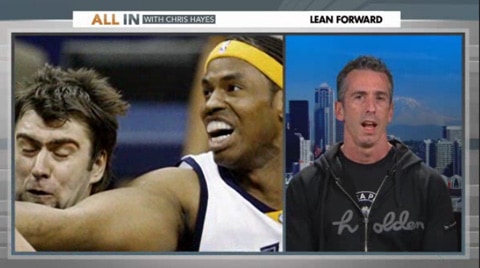 Visit NBCNews.com for breaking news, world news, and news about the economy