The initial text of the immigration reform bill will not include LGBT families, advocates told the Washington Blade today: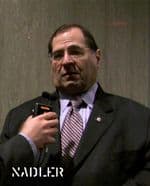 Immigration Equality Executive Director Rachel Tiven on Monday said she does not expect same-sex couples will be included in the comprehensive immigration reform bill a bi-partisan group of senators could potentially introduce by the end of the week.
"We are not expecting LGBT families to be included in the Gang of 8 bill," she told the Washington Blade during a conference call ahead of a rally in support of comprehensive immigration reform on Wednesday that is expected to draw tens of thousands of people to the U.S. Capitol. "That in our minds means that of course the bill is incomplete."
Rep. Jarrold Nadler (D-NY) confirmed Tiven's remarks:
Nadler acknowledged to the Blade on Monday "it appears unlikely that the Senate's initial immigration text" will include LGBT-specific language.
"This is disappointing but not particularly surprising," he said.
Tiven said she remains hopeful members of the Senate Judiciary Committee will revisit the issue once they begin to debate the "Gang of 8" bill.
More at the Blade…
President Obama's immigration reform proposal, unveiled in January, had included LGBT familes. Advocates say they plan to fight for reinclusion through the amendment process.