Director Roland Emmerich is planning a movie about Stonewall, he tells Empire online: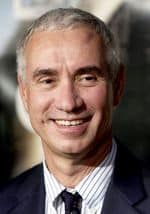 "I may want to do a little movie – about $12-14 million – about the Stonewall Riots in New York," revealed Emmerich. "It's about these crazy kids in New York, and a country bumpkin who gets into their gang, and at the end they start this riot and change the world."
Emmerich says John Robin Bates is working on a script that follows the story of a homeless gay teen who finds his way to the Stonewall Inn and "gets caught up in the riots."
Emmerich says Bates owes him 20 more pages on the script.
"I've got more and more involved in the Gay & Lesbian Centre in Los Angeles," says Emmerich, "and I learned that 40% of homeless kids are gay. So things haven't changed very much. But I put this together and said, I should make a movie about that, so it starts with a kid who gets thrown out of his home and ends up on the streets of the village, and becomes friends with all these kids. In a weird way, it shows that it's still something that happens today.
"I read a lot about it and was so surprised," says Emmerich of the process of discovery he's undertaken on the currently untitled movie. "It was the first time that gay people had shown the police that they should take them serious. And when the riot police came – this has always been fascinating for me – these kids formed a chorus line and sang 'We are the village girls, we wear our hair in curls!' It was such a cool thing."