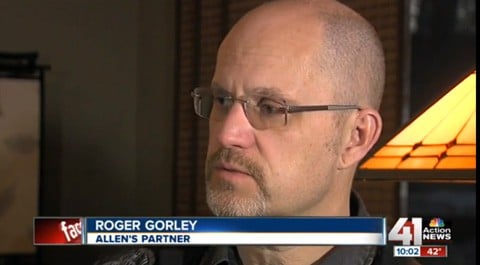 Kansas City's KSHB interviewed both parties in the hospital room dispute that went viral this week after Roger Gorley was removed in handcuffs from his sick partner's bedside.
Watch, AFTER THE JUMP…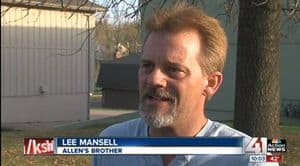 Roger says the dispute started after his partner Allen's brother Lee called 911 after not being able to reach him and had him taken to the hospital:
He said Lee shouldn't have called 911 without letting him know in the first place.
"Haul your husband into a hospital without even talking to me about it — that's like overwriting us as a couple of who we are," Roger said. "That would be like me going over to his house and taking his wife and hauling her off to the hospital without talking to him."
Lee and Roger and up getting into an argument over Allen's medical care in the hospital room.
"I know the conversation got a little heated, and the nurse had come in the first time and said 'you two need to leave the room,' so we kind of quieted down for a minute," Lee recounted. "Roger wanted me to leave the room, and I told him 'well, no, you need to leave the room' and the nurses came in the second time and said 'you both need to leave the room.'"
A nurse called security officers when Roger refused to leave, the station says:
Cpt. Steve Young, a spokesperson for the Kansas City Police Department, said officers were called to Research Medical Center by the hospital security. When they arrived, Roger was already in handcuffs and bleeding. The KCPD officers wore gloves to transfer Roger into their cuffs as standard procedure.
Roger told 41 Action News he wasn't being disruptive — and that security got violent.
"Hospital security came, and it started to hit me on my wrist" while he was holding onto Allen's bed, Roger said. "(They) hit me … because I was holding on, and they kept hitting and kept hitting and kept hitting."
But Lee said this is all being blown out of proportion. He said he only wants what's best for his brother, and that it's not a gay rights issue.
Watch, AFTER THE JUMP…
More background…
Differing Accounts Emerge in Story of Gay Man Arrested at Patient's Bedside at KC Hospital
Gay Man Arrested at Hospital for Refusing to Leave Sick Partner's Bedside: VIDEO