The first openly gay pro athlete, whether he be in football, baseball, or basketball looks set to score sponsorship deals worth millions of dollars and a promise from Nike is already on the table, Bloomberg reports: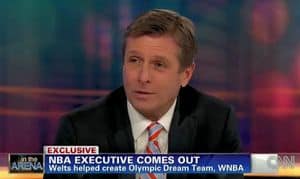 By the time former Phoenix Suns executive Rick Welts's I-am-gay announcement appeared on the front page of the May 15, 2011, New York Times, he already had revealed his secret to friends, co-workers and business associates. Among those told before the article was published were NBA Commissioner David Stern and senior executives at Nike Inc…
…Nike asked Welts to deliver a message to anyone thinking about becoming the first openly gay athlete in major U.S. team sports — the company wants him as an endorser.
Said Welts to Bloomberg: "They made it clear to me Nike would embrace it. The player who does it, they're going to be amazed at the additional opportunities that are put on the table, not the ones that are taken off."
Dallas Mavericks owner Mark Cuban called the opportunity "a marketing goldmine for all involved."
Gay marketing strategist Bob Witeck agreed: "the first openly gay team-sport athlete — provided he's a recognizable name — would earn millions in endorsements and speaking engagements…"