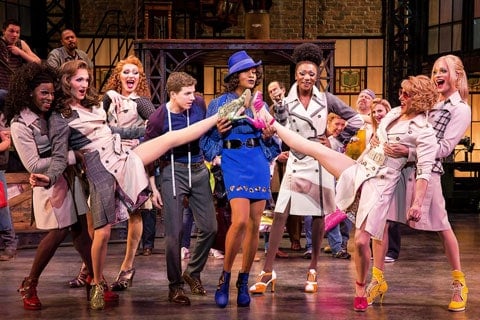 BY NAVEEN KUMAR
Who better to help boost a stumbling economy than a brazen troupe of fabulous drag queens in high-heels? They're just the divas for the job in Kinky Boots, the uplifting and heartfelt new musical with book
written by Harvey Fierstein and music and lyrics by Cyndi Lauper, which opened
on Broadway last Thursday at the Al Hirschfeld Theatre.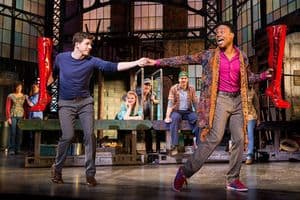 Loosely based on the 2005 film of the same name, Kinky Boots tells the story of Charlie
Price (Stark Sands), whose father dies, leaving him in charge of the family's
floundering shoe factory. Through an unlikely alliance with a wry drag queen
named Lola (Billy Porter), Charlie hatches a plan to save the family business by
producing stiletto boots sturdy enough to support a man's weight, and fierce
enough to satisfy his outer diva.
Of course, this is not just a tale of economic triumph. Ultimately,
it's a story about courage, pride, and accepting others for who they are—all lessons which drag queens are perfectly suited to teach the world.
Kinky Boots is
also a musical very much about family. Charlie and Lola share a bond in overcoming
the disappointment of not living up to their fathers' expectations. Yet for all
the characters on stage here, family bonds stretch beyond bloodlines. For
Charlie, saving his father's factory means saving his
lifelong friends and neighbors from unemployment. And aside from a fraught relationship with her
ailing father, Lola's band of limber back-up Angels is the only family she
knows.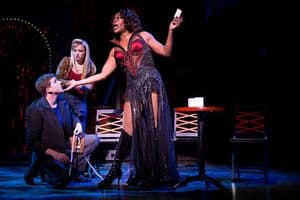 With direction and choreography by Jerry Mitchell, it's
hard to think of a creative team whose talents are more fit for telling a story
as campy as it is sincere. Here Fierstein appropriately combines his experience
writing musicals about economic underdogs (Newsies)
and saucy show queens with a soft side (La
Cage Aux Folles). 
Lauper's music is buoyant, layered with synth, and provides
a conducive vehicle for belt-heavy star vocals. Like the pretensionless,
unabashed brand of pop she pioneered in the 80's, Lauper's songs are scattered
with hooks and straightforward in their sentiment. From full cast dance numbers
to confessional ballads, and an eleven o'clock number that Porter slays as
Lola, every feeling is spelled out with a sugared clarity amplified by repetition.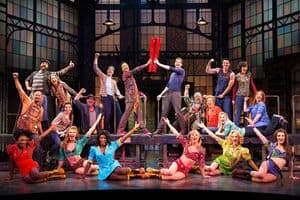 Both top-notch performers, Sands and Porter bring charisma
and talent to their halves of the story's central odd couple, including voices
that soar over the rafters. Annaleigh Ashford is delightfully funny as
Charlie's hapless admirer and dedicated employee, though developing romantic
subplots is not the show's strongest suit. Charlie's relationship with his
fiancée dissolves mostly unseen, and Lola né
Simon is actually meant to be straight as well—a holdover from its source
material that this production wisely underplays.
If Kinky Boots
wears its heart on its sleeve (lyrics in the closing song actually spell out
its lessons in a numbered list), it's a full heart beating with a passionate
and important message worth spreading. That changing minds really does change the
world is an equation we're counting on. 
Recent theatre features…
Michael Urie Takes On Barbra Streisand in 'Buyer & Cellar': INTERVIEW
Nora Ephron's 'Lucky Guy' Starring Tom Hanks Opens on Broadway: REVIEW
'Breakfast At Tiffany's' Opens On Broadway: REVIEW
Annie Baker's 'The Flick' Opens Off Broadway: REVIEW
'Hit The Wall' a New Play About the Stonewall Riots, Opens Off-Broadway: REVIEW

Follow Naveen Kumar on Twitter: @Mr_NaveenKumar (photos:matthew murphy)