Rawhide, the longtime Chelsea gay bar, is now closed. The owners are going to reopen it near East 58th street and 3rd Avenue, DNA Info reports.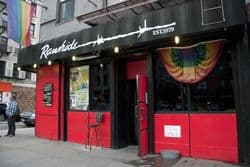 So what of its space?
"A lot of people know the history, everyone knows Rawhide, so we've gotten a lot of calls looking to open up another men's bar or another restaurant that supplements the area," said JD Sutro, a broker with Lee & Associates.
Lee & Associates is advertising the 1,320-square-foot space at 212 Eighth Ave. for $25,000 a month. It's available immediately and perfect for "all uses."
…Despite being surrounded by chains, Sutro said that most of the interest in the location was coming from small and medium-sized restauranteurs — not big companies or franchies.
"They know residents around there are great to their neighbors and patronize local businesses," Sutro said.
(via eater)