Playwright, author, and longtime activist Larry Kramer will receive the Isabelle Stevenson Award this year, the WSJ reports.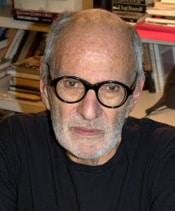 The award is "a non-competitive Tony award given to an individual from the theater community who has made a substantial contribution on behalf of humanitarian, social service or charitable organizations."
Kramer said so few playwrights in the U.S. write about politics, and instead focus on plays about personal relationships and families, "which I consider of lesser interest to me as a writer. If you compare it with Britain where every major playwright — David Hare, Howard Brenton – has written about what's going on in the country, that doesn't exist here."
Kramer said he has been "frowned upon as a serious writer" ever since his 1985 play "The Normal Heart," which is based upon his own experiences co-founding the Gay Men's Health Crisis in the early years of the AIDS epidemic.
Kramer won a 2011 Tony for Best Revival for the revival of The Normal Heart, now being adapted into an HBO film helmed by Ryan Murphy and starring Mark Ruffalo.
The Tony Awards take place on June 9.
(image david shankbone wikimedia)