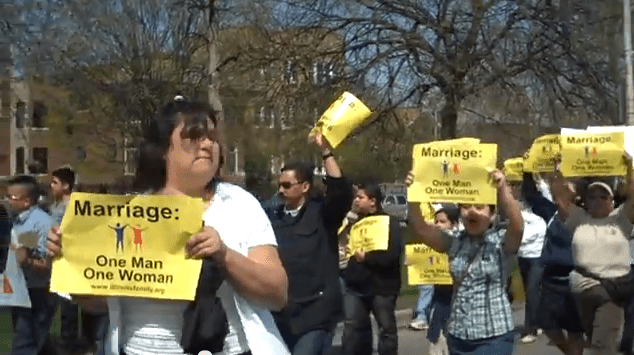 About 200 hundred marriage equality supporters and same-sex marriage protesters participated in a counter-protest in Chicago yesterday. According to the WLS-TV, groups from both the Gay Liberation Network and the anti-gay Illinois Family Institute took part in the march.
The Chicago Phoenix reports about the tension in the crowd:
At one point, tempers flared when LGBT rights activists and an a pastor shouted in each other's faces."Your bigotry is killing young queer people," an LGBT rights supporter yelled at the man.Rev. Luis Ruiz of the Christian Assembly Rios de Agua Viva near Midway on the city's South Side, denied that he and other demonstrators were in favor of discrimination and decried accusations of bigotry."We are in favor of [peoples' rights] as prescribed by God," Ruiz said. "We are not against anyone's rights. We are praying for the city … We all need prayer …
Watch a video of the protest, AFTER THE JUMP.