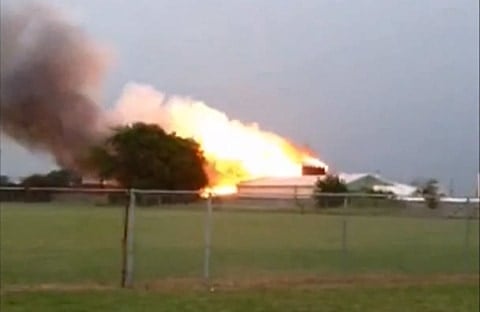 An explosion at a fertilizer plant in West Texas around 7 pm last night leveled a small area taking more than a dozen lives and injuring more than 100, CBSDFW reports,
Residents of the town, with a population of about 2,800, were asked to evacuate immediately after the Wednesday night explosion at the West Fertilizer Company. The plant is located at 1471 Jerry Mashek Drive, just off Interstate-35.  School buses and ambulances were sent to evacuate residents from the area.
Firefighters had been called to the plant to battle a small fire at the plant around 7:29 p.m. Crews were working to bring the blaze under control when the explosion happened around 7:53 p.m.  Firefighters and a police officer who responded to the initial fire are among the missing.
The AP adds that 50 to 75 houses were damaged, including a middle school and a nursing home:
Glenn A. Robinson, the chief executive of Hillcrest Baptist Medical Center in Waco, told the Waco Tribune-Herald the hospital had treated more than 100 people, including 14 who would likely be admitted, but that none had died. He said the injuries included cuts, broken bones and others expected from flying debris. The hospital has set up a hotline for families of the victims to get information, he said.
Robinson told the paper 30 people were also treated at Providence Hospital in Waco, and several others were sent to the burn unit at Parkland Memorial Hospital in Dallas. Two children were taken to McLane Children's Hospital in Temple, he said.
Video of the massive explosion from some distance away, AFTER THE JUMP…
Our thoughts go out to all those affected by this terrible tragedy.