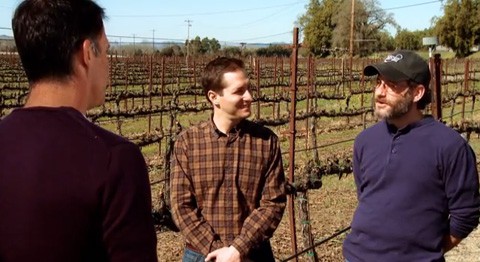 California vintners Matt Gold and Josh Stein created 'Same Sex Meritage' wine and teamed up with Cellar Angels, which pairs its wineselling with donations to worthy causes.
Says founder Matt Gold:
In September 2012, I was introduced to a very talented winemaker with a big heart, Josh Stein of Stein Family Wines, about a matter unrelated to Same Sex Meritage. The conversation arrived at a juncture where it made sense for me to bring up my failed pipe dream. I explained the concept and my vision for Same Sex Meritage to Josh and he loved the idea. Within ten minutes of meeting, we had decided to create this wine as 50/50 partners and we've accomplished a lot since that first conversation. We haven't singlehandedly overturned DOMA, but we write checks every month to the amazing advocacy group Freedom to Marry. As the official partner of Same Sex Meritage and the other wines we will be releasing in Summer 2013, Freedom To Marry receives $1 from every bottle we sell. It's the only check we look forward to writing. With the support of progressive folks who want equal marriage rights for all, we hope the amount on those checks grows every single month.
Watch an interview with the vintners, AFTER THE JUMP…