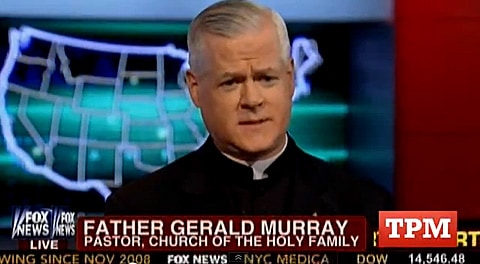 Father Gerald Murray joined Megyn Kelly and a FOX News panel earlier this week to whine about how gays are the real bigots for oppressing and victimizing Catholics:
"You can caricature Christian teaching and call it bigotry and that's reasonable speech on the left these days. This nonsense that we want to disadvantage blacks, when we say that homosexual activity is sinful, to call that equivalent to denying them their basic rights — no, we're telling them if you want to live a good life, you have to follow what Jesus said. Basically, this is an attack on our freedom to preach what we believe."
Added Murray:
"They used to want to debate the merits of gay marriage. Now, they simply want to assert that this is the only rational and Christian thing to do, and historic Christianity and the Catholic Church says absolutely not. There's no such thing as gay marriage. You can name something marriage. It's not that. But, instead of debating me on that, they want to say, 'You're a bigot. You're equal to a racist. You're equal to an anti-feminist' and all the rest, and I say, hold on, that's not the reality at all. We love everyone, including sinners of all types, but we don't tell the sinner, well, you'd like to have a legal recognition for your relationship, go ahead and have it. We don't do that."
Watch, AFTER THE JUMP…