GLAAD announced today that it is honoring former President Bill Clinton at its Los Angeles GLAAD Awards.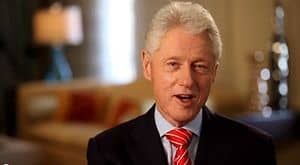 Deadline writes that the first "Advocate for Change" award will also be given to Hollywood attorney Steve Warren:
The event will be held at the JW Marriott on April 20 and there will be more excitement than usual in the air as this is right in the midst of Supreme Court deliberations regarding the constitutionality of Prop 8 and DOMA, which will have profound impact on gay marriage and whether equal protections extend to gays and lesbians. That landmark decision is expected to be delivered in June. Big star power is expected at the event. Among the confirmed presenters so far are Leonardo DiCaprio, Charlize Theron and Jennifer Lawrence. They are all Warren's clients.
Clinton is being honored for a long track record of pressing tolerance. I
In 2011, Clinton advocated for marriage equality in New York, stating that "for more than a century, our Statue of Liberty has welcomed all kinds of people from all over the world yearning to be free. In the 21st century, I believe New York's welcome must include marriage equality." In 2012, he joined the Coalition to Protect North Carolina Families in working against North Carolina's proposed Amendment One to ban marriage and civil unions for gay and lesbian couples. Most recently, he called for the Supreme Court to strike down the Defense of Marriage Act in an op-ed for The Washington Post. During his administration, Clinton became the first U.S. President to appoint out gay and lesbian people to all levels of government. He appointed more than 150 including James Hormel as America's first openly gay ambassador. During the height of the HIV/AIDS crisis, his administration convened the first White House Conference on the epidemic, created the national AIDS Policy Coordinator post, and expanded funding for research. In 2002, his Clinton Health Access Initiative (CHAI) began as the Clinton HIV/AIDS Initiative to address the HIV/AIDS crisis in the developing world.