Following reports that his ex-wife caught him trespassing, the NRCC has cut ties with former South Carolina Governor Mark Sanford, who is running for a special 1st District Congressional seat, Politico reports: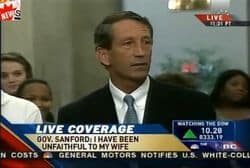 Blindsided by news that Sanford's ex-wife has accused him of trespassing and concluding he has no plausible path to victory, the National Republican Congressional Committee has decided not to spend more money on Sanford's behalf ahead of the May 7 special election.
"Mark Sanford has proven he knows what it takes to win elections. At this time, the NRCC will not be engaged in this special election," said Andrea Bozek, an NRCC spokeswoman.