The publisher's of Singapore's Element magazine are hosting its website in the U.S. and selling it online only to get around oppressive social attitudes and media restrictions in the conservative southeast Asian nation, the WSJ reports: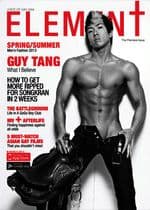 Element launches later this month, billing itself as the "voice of gay Asia." Its first issue features interviews with dancers at gay clubs in Thailand and profiles of gay-friendly luxury resorts in Asia, keeping with the regional focus of the magazine. Advertisers already include fashion label Paul Smith, and Avalon, a glamorous nightclub at Singapore's Marina Bay Sands casino resort….
Published by Singapore-based independent media company Epic Media, the magazine aims to have 10,000 digital subscribers and possibly a Mandarin version to tap into the Chinese market next year.
Element is working around media rules in Singapore. Print magazines distributed in the city-state require a license through the government's Media Development Authority, which regulates and censors media content. The online world, by comparison, is regulated with a "light touch," circumventing many of the same license applications mandatory in printed content.
The bi-monthly magazine will only be available Apple
and Android app storesa nd cost $1.99 an issue.