Northern Ireland's Assembly rejected a marriage equality bill this afternoon, the Belfast Telegraph reports: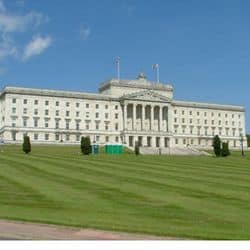 Unionists voted down a motion at Stormont's Assembly which called on the power-sharing ministerial Executive to legislate.
Northern Ireland is the only part of the UK without marriage rights for gay couples.
The issue sparked impassioned debate, with protests outside the legislature and verbal clashes between campaigners in favour of or opposed to the change. Amnesty International has warned of a likely legal challenge…
…Today's petition of concern at the Assembly tabled by the largest unionist party, the Democratic Unionists, ensured Sinn Fein's motion would be defeated after a majority of unionists failed to back the change.
…A total of 95 members voted, 42 in favour including all nationalists. Three unionists out of 50 voted Yes. Former Ulster Unionists Basil McCrea and John McCallister voted Yes.
DUP Finance Minister Sammy Wilson defended his party's veto and said colleagues would use it again to defeat "reckless" legislation.