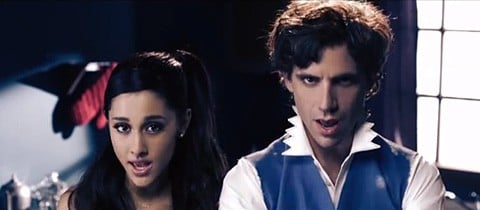 Ariana Grande and Mika plot to rid a school of its bullies in "Popular Song", which is a remake of "Popular" from the Broadway show Wicked. Some of the lyrics have been rewritten.
Arjan writes:
"Popular Song" is partly based on "Popular" from the musical Wicked that Mika skillfully incorporated into his own version. In a making-of series on YouTube, Mika explains that the song's original composer Stephen Schwartz came to his studio one day and listened to his second album. "Even though we never wrote together, I sent him an email after meeting to ask if I could play with ['Popular'] a little to change up its meaning," he explains. "I respect him as a songwriter and wanted to make sure he was okay with it."
The song's lyrics describe in not-so subtle terms what it was like for Mika to turn from a misfit into the most popular kid of the class – so to say. "I never was a scholar/You were always popular/You were singing all the songs I don't know/Now you're in the front row/Cause my song is popular." It's an important message about the profound effects of bullying that now comes with a playful yet meaningful new video that raises awareness about this issue we should all deeply care about.
Watch, AFTER THE JUMP…