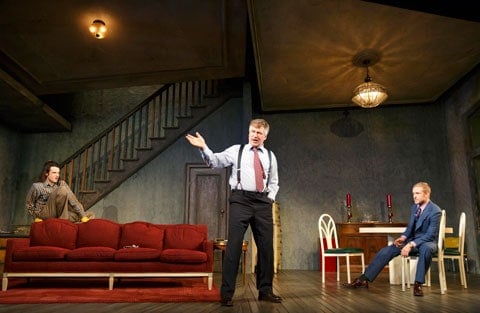 BY NAVEEN KUMAR
Lyle Kessler's 1983 play Orphans
opened last Thursday at the Schoenfeld Theatre, making its Broadway debut in a
powerfully charged production starring Alec Baldwin, Ben Foster and Tom
Sturridge. A hybrid sort of drama built on contrivances yet grounded in emotional
truths, the play becomes a vehicle for three outstanding star performances under Daniel Sullivan's nimble and dynamic direction.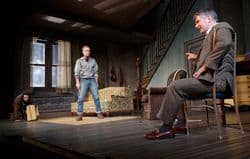 Two orphaned adult brothers still living in their parents'
decaying house on the north side of Philadelphia, Treat and Philip have been
fending for themselves since they were children. Foster plays Treat, who has
supported himself and his brother as a petty thief, while keeping Philip (Sturridge)
sheltered at home in an abbreviated state of development. Though Philip can't
read and doesn't leave the house, he nurses his curiosity by watching TV or
passersby, and underlining words in the daily newspaper.
Treat kidnaps Harold (Baldwin), who unbeknownst to him is
not only a mobster but also a fellow orphan. Tables turn when Harold quickly
escapes and offers a hand of support (and an encouraging shoulder squeeze) to
both boys, effectively threatening Treat's position as household father figure.
Baldwin is a natural fit for Harold, exuding the particular brand of polished panache for which he's famous. Foster — who replaced Shia LaBeouf after the star stepped off the
production shortly into rehearsal, stirring up a Twitter sh*t storm on his way
out — is fantastic as Treat, seething with resentful rage while exercising a
sadistic protective grip on his brother.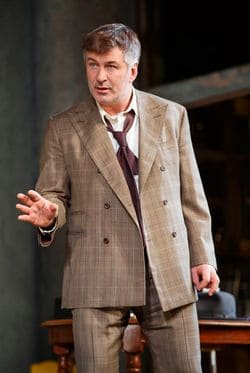 But Sturridge's remarkable performance as Philip is definitely
the production's most affecting and attention-grabbing. Though both brothers
experience profound mental and emotional transformations by the play's end, Philip has farther to travel. Sturridge
brings a careful sensitivity to his every action, and traverses every inch of
designer John Lee Beatty's set with a bounding, agile grace.
Kessler's play, though written with three roles tailor-made
to showcase actor prowess, hangs upon a strangely stylized conceit that doesn't
ultimately add up to a wholly satisfying drama. That
Treat just happens to kidnap a fellow orphan criminal is only one of several
question marks looming in the play's framework.
But Sullivan elicits fine performances from each of the
three actors, and finesses some of the story's more incredulous moments with a
sure hand. Despite the engineered quality of Kessler's conclusion, Sullivan's
production moves with a stirring momentum that can't help but make an impact. 
Recent theatre features…
Richard Greenberg's 'The Assembled Parties' Opens on Broadway: REVIEW
Playwright Douglas Carter Beane is Back On Broadway With 'The Nance:' INTERVIEW
'Matilda The Musical' Opens On Broadway: REVIEW
'Kinky Boots' Opens On Broadway: REVIEW
Michael Urie Takes On Barbra Streisand in 'Buyer & Cellar': INTERVIEW

Follow Naveen Kumar on Twitter: @Mr_NaveenKumar (photos: joan marcus)