Jim Roth, former county commissioner and one-time member of the corporation commission, was attacked outside a bar in Oklahoma City. The police say they can't classify the assault as a hate crime, even though that's clearly what it was, KFOR reports: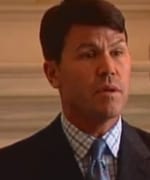 Legally speaking, it's hard for local police to classify these kind of assaults as hate crimes but Roth and others said there's no doubt the crime was fueled by bigotry. Police said Roth got into a verbal altercation with a man who made some anti-gay comments. When Roth later walked outside the bar, he found himself attacked by three men.
"The victim was assaulted, he was not seriously hurt, but he was struck several times," Oklahoma City police Master Sgt. Gary Knight said.
The bar's Facebook page includes a scathing editorial.
The owner of Grandad's condemned the alleged hate crime writing, "We will not tolerate bigotry and hate. You don't have to love everyone who walks in the door like we do but you do have to tolerate them. Gay, straight, black, white, plumber, politician, whatever… let's just all have a drink and be cool."
Watch, AFTER THE JUMP…