Brittney Griner, the WNBA's top draft pick who's now headed to play for the Phoenix Mercury, has signed a deal with Nike, USA Today reports: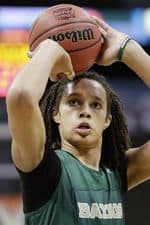 Lindsay Kagawa Colas, who represents Griner, confirmed to USA TODAY Sports that Griner signed a deal with Nike on Saturday.
"It's big-time, let's just say that," Griner said of the deal.
Two weeks ago, former Phoenix Suns executive Rick Welts told Bloomberg that Nike was interested in sponsoring openly gay pro athletes.
Said Welts to Bloomberg: "They made it clear to me Nike would embrace it. The player who does it, they're going to be amazed at the additional opportunities that are put on the table, not the ones that are taken off."
Nice to see Nike keeping its promise. Who's next?
(via shewired)