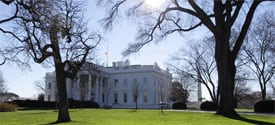 President Obama is scheduled to make a statement to the press at 11:30 am on the attacks in Boston.
UPDATE, BRIEFING OVER:
Obama said that "our first thoughts are with the vistims and their families" and that "given what we now know of what took place, the FBI is investigating it as an act of terrorism." He said that it is still unknown if it is a group or individual behind "the heinous and cowardly act."
Archived video HERE.