Rhode Island Senate President M. Teresa Paiva Weed anticipates a full Senate vote on marriage equality as soon as the week of April 21, the Providence Journal reports: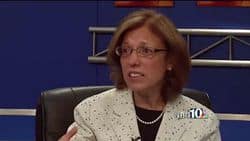 "I feel very confident that the issue will be fully debated on the floor of the Senate at some point in April — sometime in the first couple of weeks after the break," she tells The Providence Journal. While she personally opposes same-sex marriage, Paiva Weed says she views her primary responsibility, as Senate president, "to ensure an open and honest debate in committee and on the [Senate] floor."
In January Paiva Weed said she had no idea if the bill would pass.
Asked if she supports it personally, she dodged: "I think as the leader of the chamber my responsibility today is to speak to the chamber's position, and there will be a meaningful debate…"
She also added, "I'm listening to everyone on both sides."