Rick Santorum's appearance at Grosse Pointe High School in Michigan was canceled by the school's superintendent Dr. Thomas Harwood after Santorum refused to provide an advance copy of his speech, the Detroit News reports: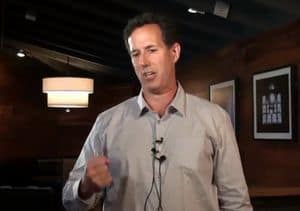 Harwood was told he could not preview the speech intended for more than 1,700 students during an assembly at the public high school and that Santorum never spoke before high school students, Fannon said.
Harwood met with Grosse Pointe High School principal Matt Outlaw and student Peter Fox, who was instrumental in getting Santorum to accept the invitation, and informed them of the decision, Fannon said. Parents were informed via email the same day, she said.
"The district just wanted to make sure the speech was focused on leadership. And when they were unwilling to review the speech, we couldn't allow them to come," Fannon said.
"As a public school system, we must be neutral, and we can't impose a position that is not neutral during a school activity during the school day," she said.
An outraged Santorum released a statement about the cancelation:
"It's a sad day when liberal educators are allowed to influence young minds – extending free speech rights only to those who share their liberal views.  I support traditional marriage; I believe marriage should be between one man and one woman.  I'm not sure what the administrators in the Grosse Pointe Public School System are afraid of, but these students deserve the respect to form their own opinion on this important issue.
"Furthermore, anyone who has ever seen me speak knows I rarely use prepared text.  In the case of Grosse Pointe High School – I was never asked for a copy of a speech, nor did I send one.  This has nothing to do with the content of a speech, but rather the context of my convictions."