Yesterday I reported that Rick Santorum was outraged after Dr. Thomas Harwood, the superintendent of Grosse Pointe High School in Michigan, canceled an appearance because Santorum hadn't provided a copy of his speech in advance. Santorum freaked out, saying his "free speech rights" had been violated.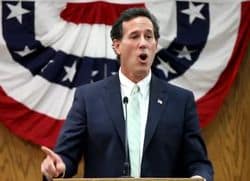 Santorum has now been invited back, ClickonDetroit reports:
Harwood says parents will now be able to sign a permission slip to decide if students can attend the event to hear Santorum speak.
This compromise was reached between the school administration and the South student club Young Americans for Freedom (YAF), the event organizers.
The district says students participating in YAF raised $18,000 to bring Santorum to Michigan.