Mariela Castro, the Cuban gay rights activist and daughter of President Raul Castro, is being honored at Philadelphia's Equality Forum but the State Department has denied her a visa to pick up the award, the AP reports: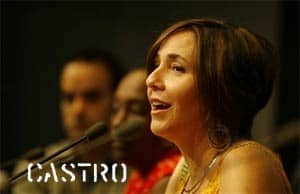 State Department spokesman Noel Clay said he could not comment on the case because visa records are confidential.
Mariela Castro, the niece of retired leader Fidel Castro, is director of Cuba's National Center for Sex Education. As that country's most prominent gay rights activist, she has instituted awareness campaigns, trained police on relations with the LGBT community and has lobbied lawmakers to legalize same-sex unions.
Guillermo Suarez, spokesman for Cuba's United Nations Mission, confirmed that Mariela Castro was in New York on Thursday attending meetings related to the U.N. population conference in Cairo in 1994. She is one of the experts designated by Secretary-General Ban Ki-moon to work on the 20-year follow-up to the action plan adopted in Egypt, Suarez said.
"That's why she asked for the visa and it's the reason for her presence in New York," he said.
Cuban diplomats are barred from traveling more than 25 miles from Manhattan.
The Equality Forum released a statement, which read in part:
"Over the past 11 years, Equality Forum has invited leaders of the featured nation to attend. For those who needed a visa, all past visas have been approved," stated Malcolm Lazin, Executive Director, Equality Forum.  "It is shocking that our State Department would deny Ms. Castro travel to a civil rights summit – especially one held in the birthplace of our democracy that enshrines freedoms of speech and assembly."
"Mariela Castro runs the leading Cuban LGBT organization that offers support and services to LGBT youth and seniors, provides HIV and STD education and prevention, and combats homophobia," said Lazin. "These are shared values that deserve the right to be heard regardless of political systems."