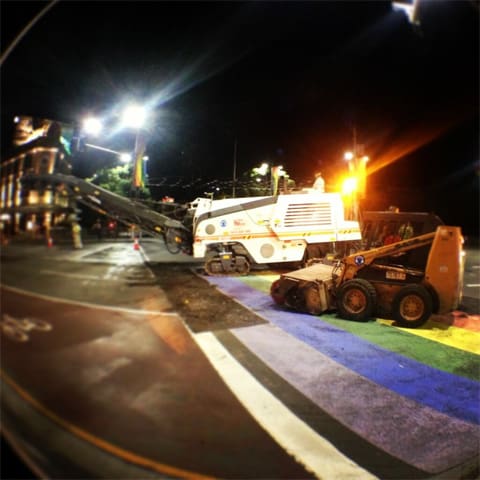 Since its Gay and Lesbian Mardi Gras, Sydney's Council and LGBT community has been involved in a debate with the city over keeping a rainbow crosswalk in the center of its gay village.
Last night, a city official (with the last name Gay, ironically) gave the order to remove the crosswalk, the Daily Telegraph reports:
Roads and Maritime Services removed the crossing overnight at the request of Roads Minister Duncan Gay, ending the stalemate between Sydney Council and the government. [Lord Mayor] Cr Moore, who was hosting a forum on the council's cultural policy when the trucks started to arrive at Taylor Square last night, said the move was "a retrograde step".
"I felt they'd come like a thief in the night to remove this crossing that had had such amazing support from the community and which had such support from the business community in Oxford St," she said "It's a sad day for us as a contemporary, progressive city and I thought that's what the crossing symbolised."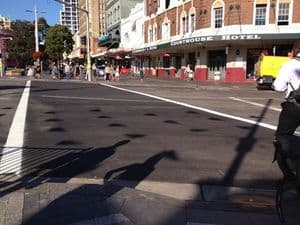 LGBT site Same Same adds:
The official reason for its destruction is that it is "unsafe", but Independent Sydney MP Alex Greenwich and Mayor Clover Moore has shown the safety risk assessment of the crossing is "low risk", clearly debuking Roads and Maritime Services concern. Greenwich suggested emergency crews were dispatched last night from Ultimo to vanquish the crossing, again raising questions about government resource allocation to instill discrimination and also begging the question about where priorities lie.
"It's one thing to call for the removal, but to divert RMS crews under the guise of emergency road works is an aggressive act that Sydneysiders will not forget," he reacts angrily. "Local businesses, residents, and the City of Sydney Council were not given any notice. This even surprised the RMS crew who at the last minute were instructed to remove the crossing."
UPDATE: Towleroad (@TLRD) Twitter follower @LiamGeslaf has alerted us that a rainbow crossing memorial has started at the site of the former crosswalk.
Supporters can plant their own flags or buy one at the site.