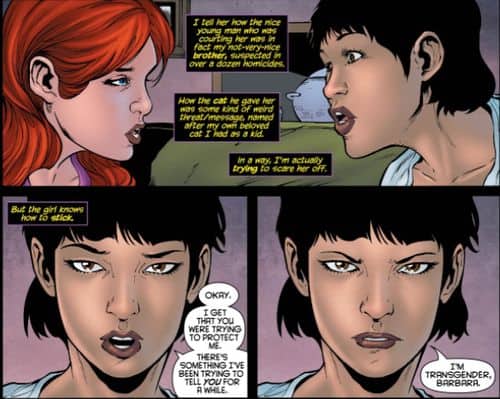 DC Comics this week announced the introduction of Alysia Yeoh in Batgirl #16, who announces she is transgender in a conversation with her roommate Barbara Gordon (aka Batgirl), Wired reports:
Taking care to distinguish Yeoh's sexual orientation from her gender identity, Batgirl writer Gail Simone noted that the character is also bisexual.
Simone attributed the inspiration for the character to a conversation she had with fellow comic book writer Greg Rucka several years ago at the Wondercon convention, after a fan asked why there were fewer gay male superheroes than lesbian ones. Rucka, who co-created (and rebooted) Batwoman as a lesbian character, replied that it would be a real sign of change for a gay male character to appear on a comic book cover — and an even bigger step for a transgender character to do the same.
"I looked out into the audience, saw dozens of faces I knew well — LGBTQ folks, mostly — all avid comics readers and superhero fans and DC supporters," said Simone. "And it just hit me: Why was this so impossible? Why in the world can we not do a better job of representation of not just humanity, but also our own loyal audience?"
More at Wired…